International Women's Day 2020: Sarah, Coach Driver Extraordinaire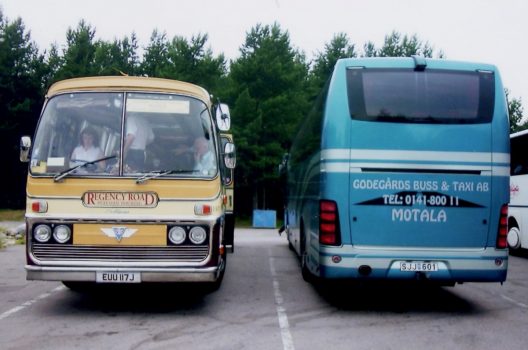 We're celebrating International Women's Day 2020 by celebrating a couple of the incredible women in the Greatdays office.
This is Sarah's story (ft. being held at gunpoint on the Russian border):
I took my coach test in 1989 when I was 19. I turned up in the hacking rain and still remember the look of surprise on the examiners faces when I said I was there for my coach licence. I guess I didn't look like a typical coach driver.
As a hostess on one of my dad's coaches, I'd gotten the taste for the freedom of coach travel – doing something different each day and getting to know new people and place. I was hooked and decided I wanted to drive.
I passed and after a preliminary period I was out on the road. People weren't used to female coach drivers and it was tough battling expectations. I had to work twice as hard to earn people's respect but I loved the job.
It was the little things you'd notice, male drivers helping each other into spaces but looking suspiciously at me as I reversed; attendants ignoring me but having long chats with male drivers; or even some customers asking if it was safe for me to drive.
Gradually I earned people's respect, but it was hard work. I had all the effort of long distance driving while also having to prove myself twice as hard. It certainly helped that I drove an old-style coach back then with no power steering and a heavy clutch – it saved on gym membership too!
As the years passed and I had my own small coach company I grew to love the adventure of unusual tours, places like the Arctic Circle and the North Cape. It was so much driving but the things you saw and people you met made it more than worth it.
It was from this I got the idea to do a tour to Russia. I told my dad, who was helping me at the time, and we put the feelers out for interest. People thought we were crazy but we got 15 or so sign up without even hearing the price. It was on.
We'd expected the border to be like any other, a flash of the passport, a few quick checks and we'd be on our way. No such luck: armed border guards patrolled sternly among long queues of trucks.
The guards ushered Dad and I off the coach, demanding papers, and whisked him away to some wooden shed for questioning. Meanwhile, they were turning the coach inside out with sniffer dogs.
They kept gesturing at me and asking where the chauffeur was. I told them repeatedly I was the driver but they wouldn't believe that a woman could drive the coach, even after seeing all my papers and my name on the side of the coach. They were insistent on a man.
After an age, dad returned with his paperwork and several Rubles lighter but the guards wouldn't return my licence. It was crazy; they were so surly and unhelpful – I wouldn't have minded it so much if they could have just smiled a little.
We got the licence back with the help of an English truck driver who spoke a little Russian we were eventually on our way.
Honestly though, as stressful as it was, it never put me off. I went back to Russia on a trip organised by Greatdays but that is another story!
I gave up the coach business shortly after I got married. He's a long-haul lorry driver so was away all week and I was away at the weekends, not the ideal start to a marriage. My business relied on a small group of loyal but aging customers, so I think the time was right to move on.
It took a while to adapt to office life and I still miss driving my coaches, but I'm thankful for all the incredible memories, people and places I got to experience.
Not done celebrating our inspirational women? Check out Michelle's story too!