Marvel Avengers Campus at Disneyland® Paris
Marvel Avengers Campus – Now Open!
Book Now!
Prices on request
Calling all heroes! Prepare to assemble for Marvel Avengers Campus, an epic new land now open at Disneyland® Paris.
As a new recruit, you'll team up with the likes of Spider-Man and Iron Man and take on the mightiest MARVEL missions. This is your chance to use your powers to conquer two thrilling new attractions, learn super new skills from Black Widow and Thor, power up on size-defying food made with PYM Particles and much more.
Welcome to the MARVEL Universe with you in the heart of the action.
Contact us today to book your magical stay at Disneyland® Paris and experience this brand new land (minimum groups of 12 or more).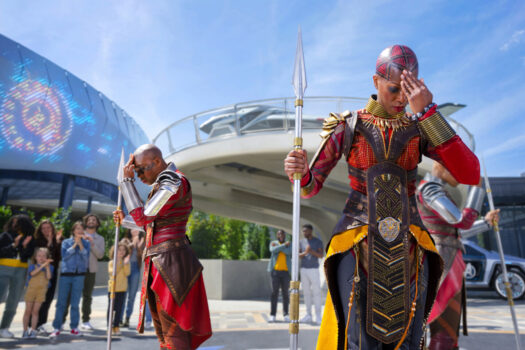 Avengers Assemble: Flight Force Heroes wanted! Team up with Iron Man and Captain Marvel and help them save the world from an intergalactic threat in this hyper-thrilling attraction. Good luck, recruit. Earth is counting on you!
Spider-Man W.E.B. Adventure Recruits of all ages, unleash your inner hero in this action-packed mission alongside Spidey himself. Will your team's web-slinging skills catch Peter Parker's buggy Spider-Bots before they wreak total techno-havoc?
Hero Training Centre Budding recruits, be sure to enlist at the only place where you can perfect your powers with a training session from Spider-Man and his fellow avengers.
PYM Kitchen Being a hero is hungry work so head here for a huge variety of good food at size-defying scales. Here, you can power up with a buffet of unusually-sized mains and snacks – all prepared by a team of super-smart chefs using Ant-Man and The Wasp's PYM Particle 'shrinking and growing' technology.
Stark Factory Have an appetite for invention… and customising your own pizza, pasta and salad? Then fly over to this high-tech workspace and quick-service kitchen where Super Heroes come to build and repair their gear.
---
Suggested Magical Itinerary
Day 1
Travel to Disneyland® Paris
Make your way to the magic by coach, Eurostar or air and check into your onsite Disney® Hotel. Spend the evening checking out the magical entertainment, shops, restaurants and bars in Disney Village®.
*A Park ticket is not required to enter Disney Village®.
Day 2
Walt Disney Studios® Park
Explore Marvel Avengers Campus, the epic new land where you become part of the MARVEL Universe and team up with the Avengers to take on the mightiest missions. Conquer the two thrilling new attractions and learn super new skills from your favourite Marvel heroes.
Day 3
Disneyland® Park
Be transported to a world that inspires the imagination, where wonder and enchantment fill the air all year round. With Sleeping Beauty Castle at the heart of this fairy-tale setting you will be immersed in the Disney magic you know and love.
Day 4
Au Revoir Disneyland® Paris
Today, it's time to say "Au Revoir" to Disneyland® Paris and head home with magical and MARVEL-ous memories to last a lifetime.
See Ya Real Soon!
---
Back to Disneyland® Paris for groups
---
Trade Prices Available – Please Enquire for more Information
---
All pictures ©Disney.
Minimum group sizes of 12+ paying passengers. Prices are subject to package & room availability and are not guaranteed. Events, shows and parades are subject to change, postponement or cancellation without prior notice, particularly in the event of bad weather. Please check the Disneyland® Paris website for up-to-date information. Picture is for illustrative purposes only. ©Disney.
Send an Enquiry